As we enter the winter cold and flu season I wanted to share a few reminders: Stay home when sick, Wash your hands, and Cover your cough and sneeze. We have seen a recent increase in respiratory and GI illnesses at school. Please help prevent the spread by following the attached OHA guidelines. In health, Kamala Malcolm RN, BSN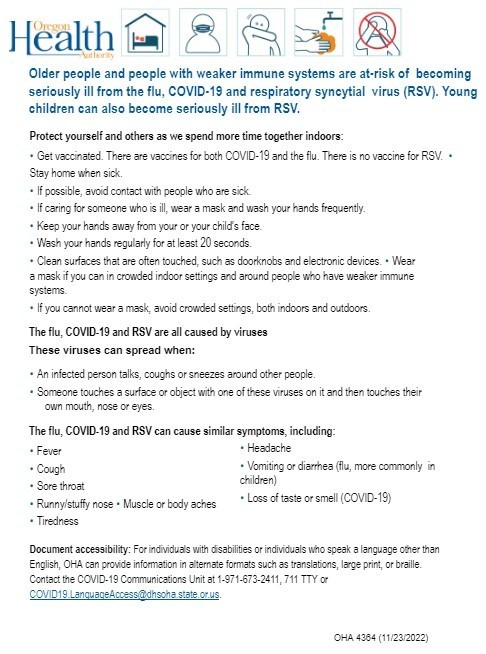 FFA Christmas Tree Sale update: They will be selling trees on December 3rd & 4th from 2-7 p.m. The sale will be at 474 West 2nd Street.

Support the sophomores and enjoy dinner from Big Jim's Drive-In!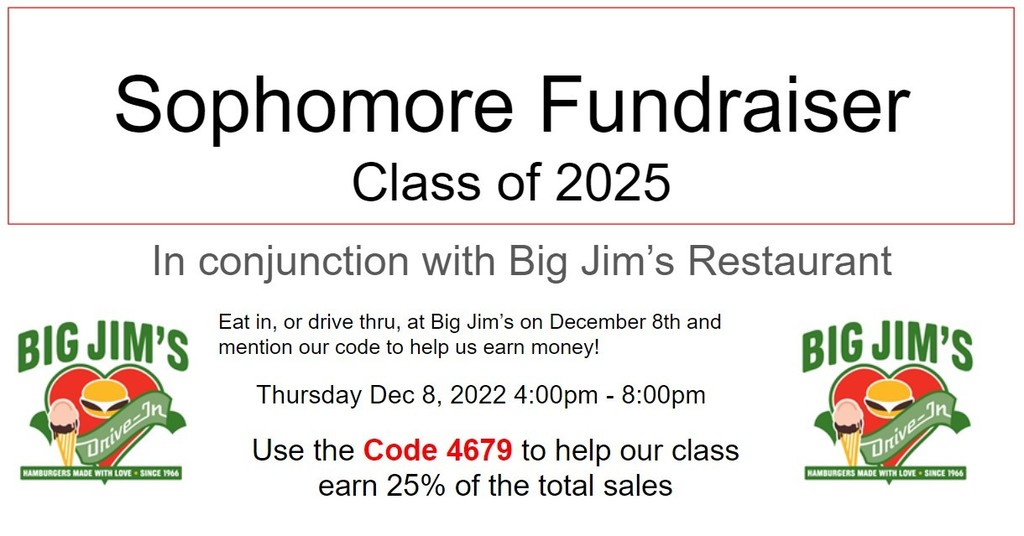 Please consider Dufur School students for your end-of-year and holiday donations and raise a Ranger up! Please see details in the attached poster for making a donation to help a Ranger in need:
https://www.rangerpride.org/general-3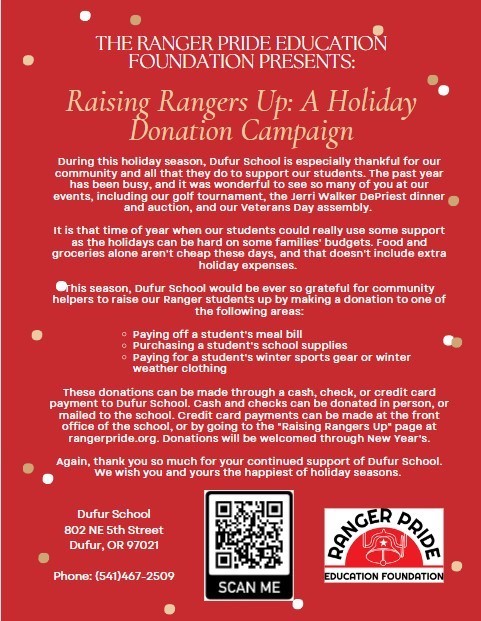 Do you have jackets that are not being used or jeans that your kids have grown out of? Many of you already know that Dufur School has a clothing closet for kids that may need something. As the cold weather comes in, we are always looking for donations of jackets (sizes youth small through adult large), hats and gloves for kids that may need them. We are also looking for jeans at this time, sizes 7Y and up. Please feel free to drop off at our front office. Thank you!

Mark your calendars for the Dufur School winter music program on December 8th! The Class of 2026 will be offering professional pictures with Santa Claus before, during, and after the program. We can't wait to see Santa since he has spent the last couple of years staying healthy at the North Pole!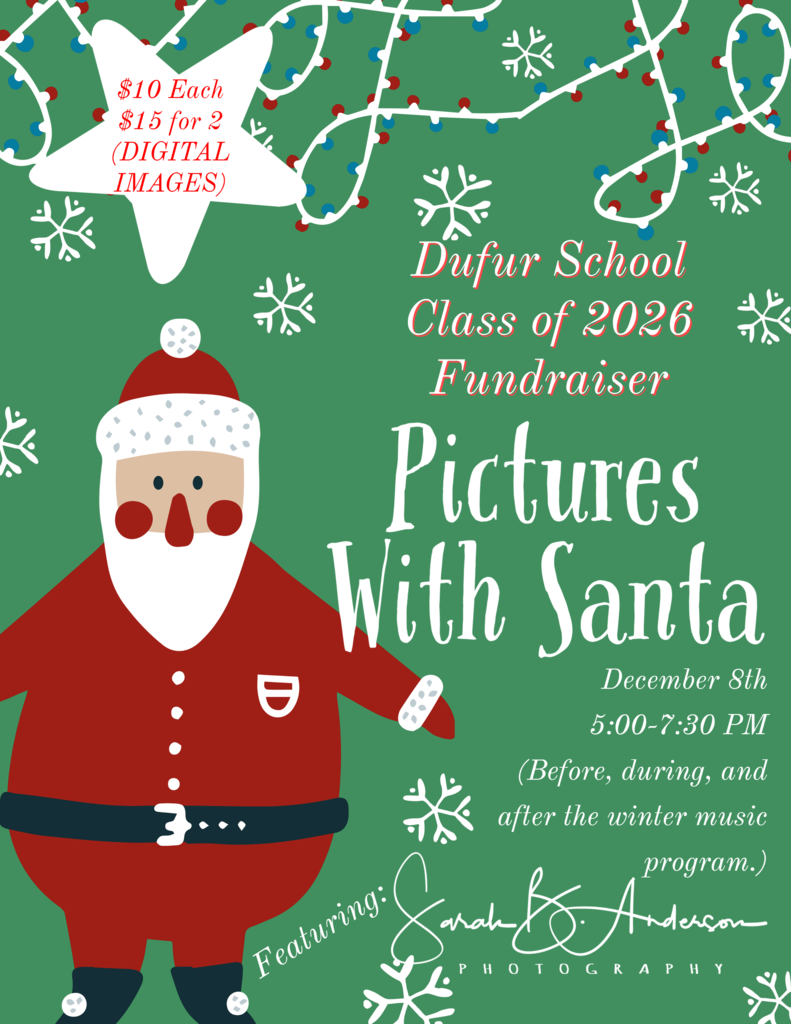 MyDay Friday Activities: Mrs. Bales' first grade class invited their families to a Thanksgiving presentation where they sang Thanksgiving songs, talked about what they were thankful for, and enjoyed some pumpkin pie.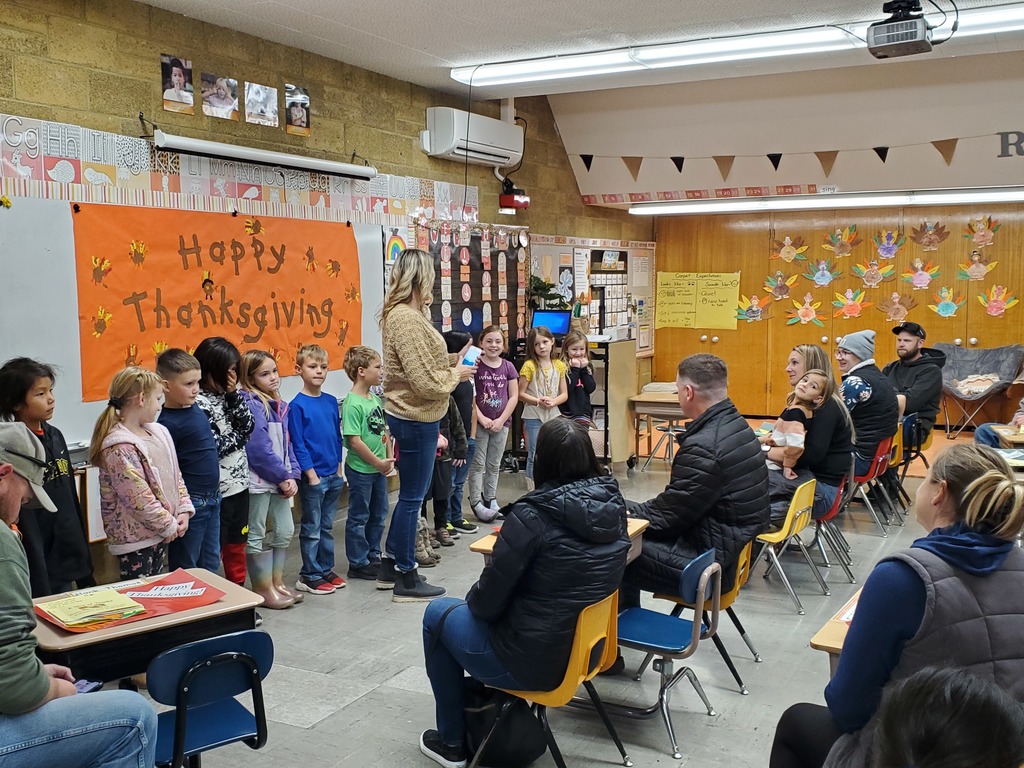 MyDay Friday activities: The Health Sciences high school CTE class learned how to do sutures.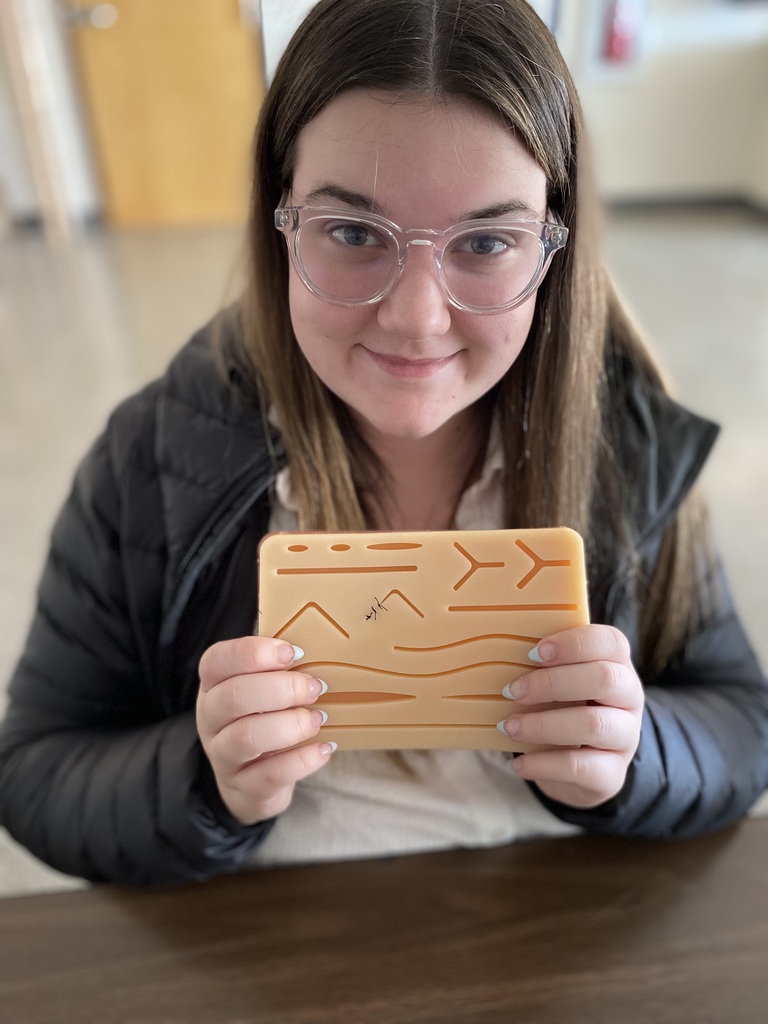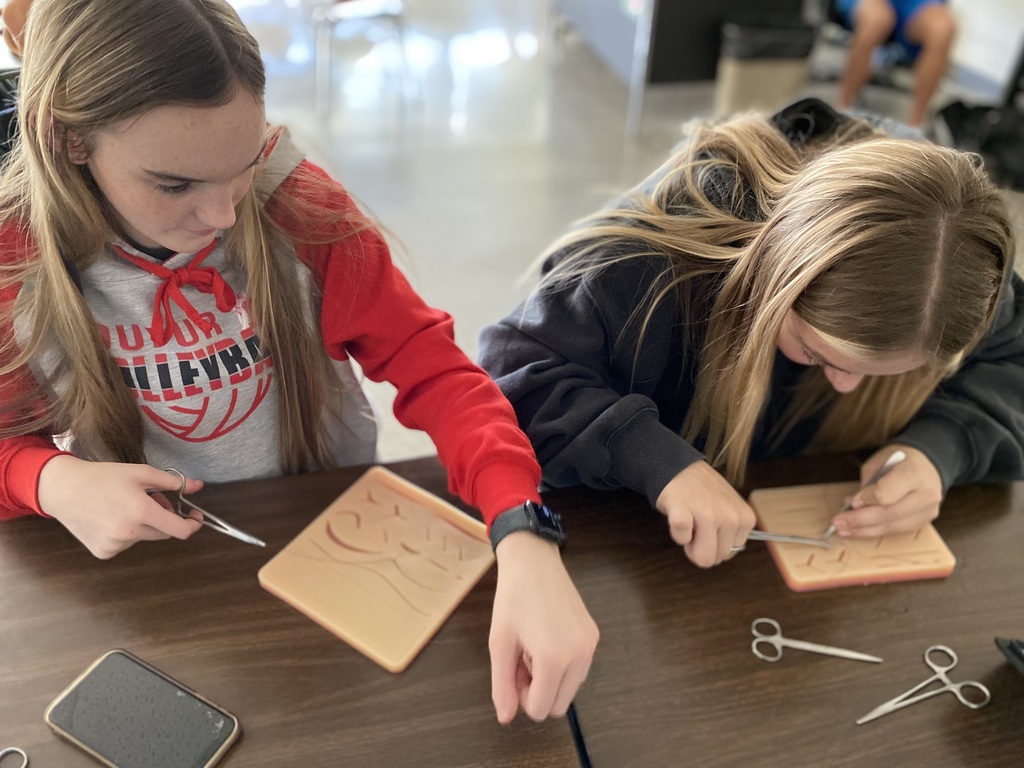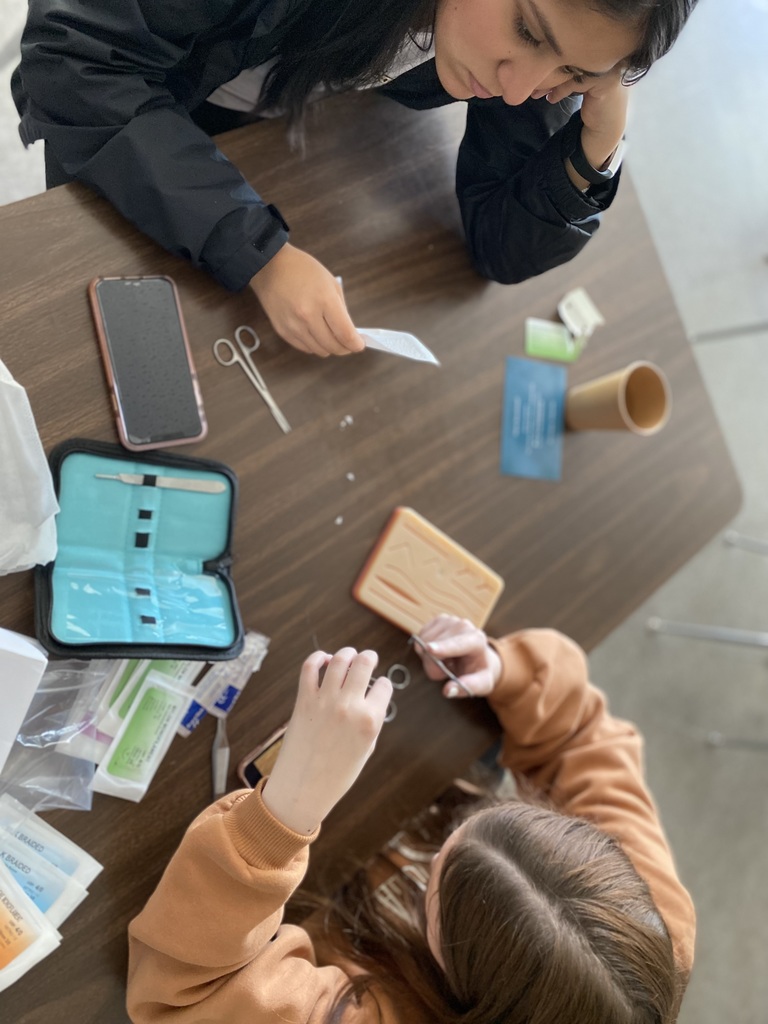 MyDay Friday Fun: The middle schoolers got to make turkey rockets and Christmas ornaments. The high school welding class also built Christmas ornaments.

MyDay Friday Fun: an artist in residence did a large collaborative pastels project with grades 4-9. In addition, the high school students in Mrs. Anderson's art class made food murals for the cafeteria.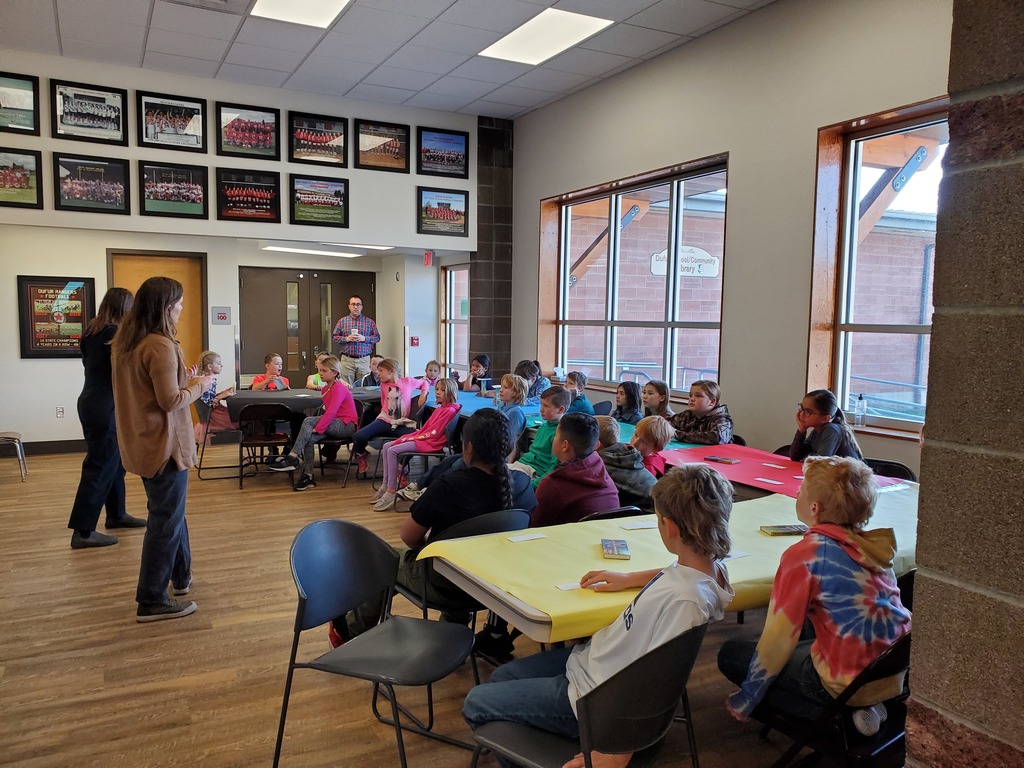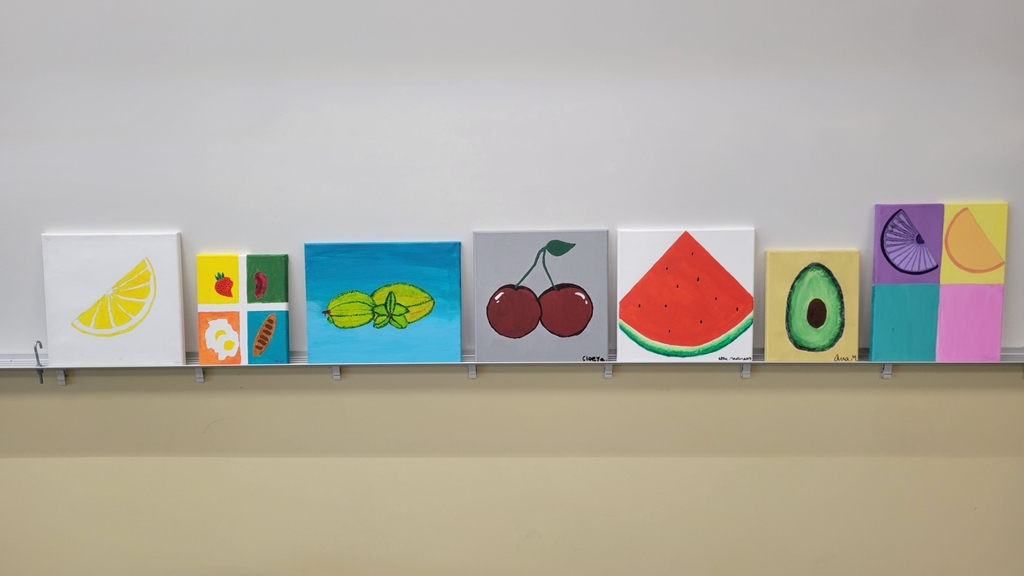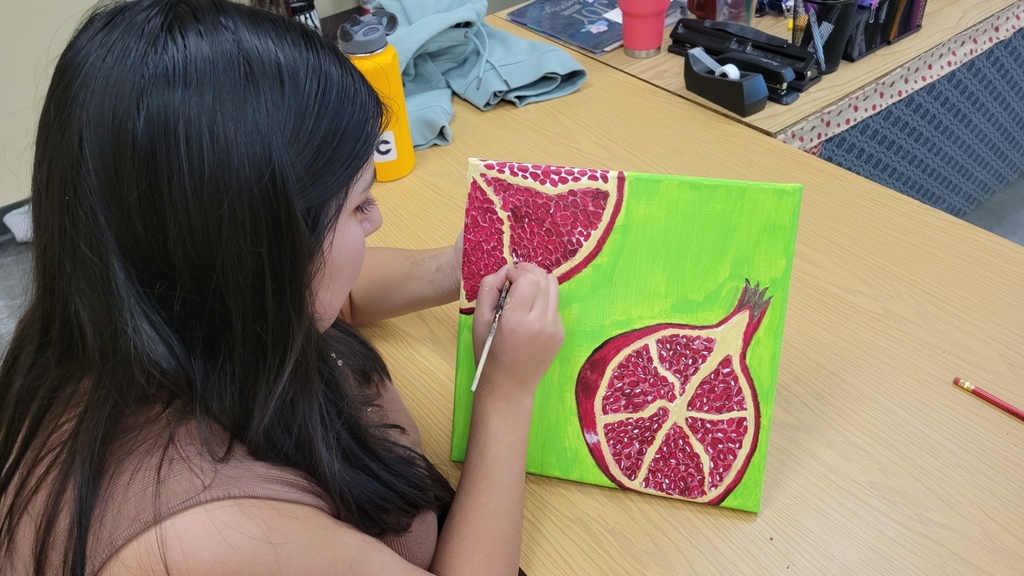 The first grade got to practice yoga today during MyDay Friday activities!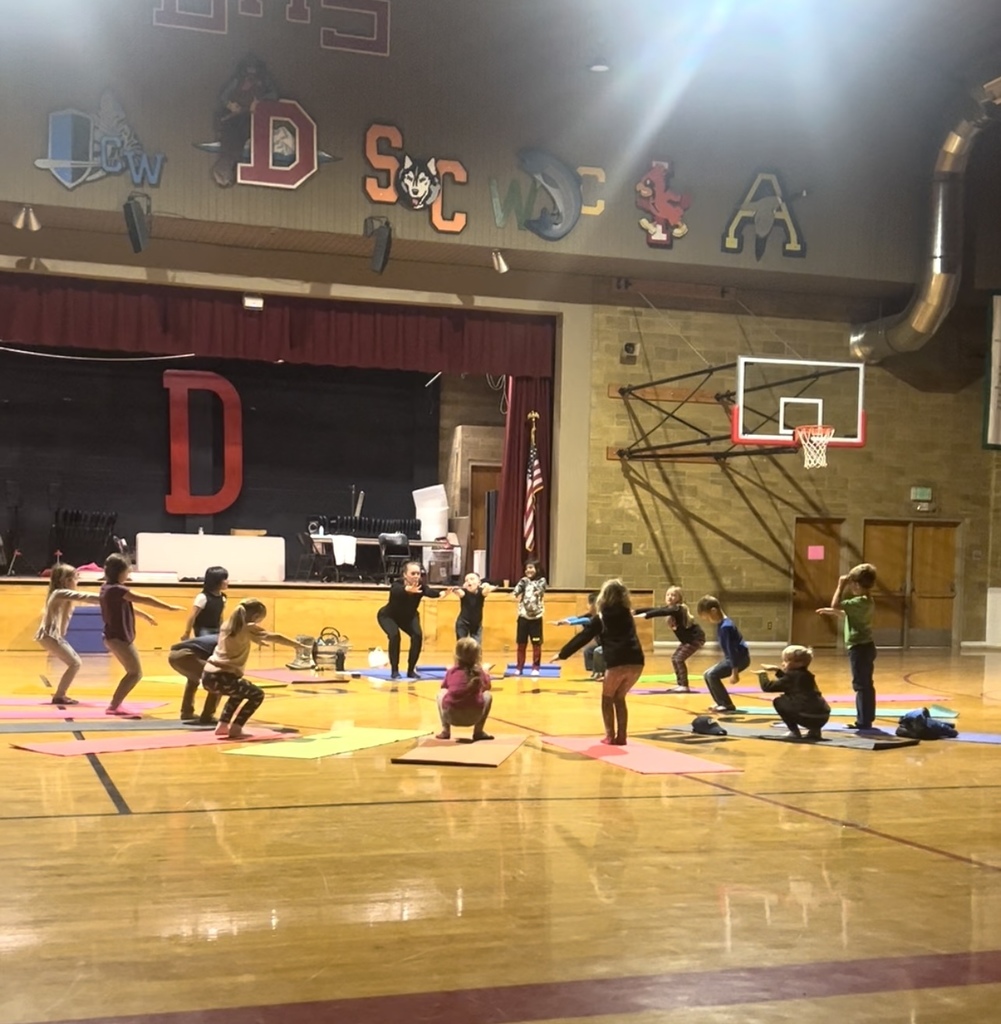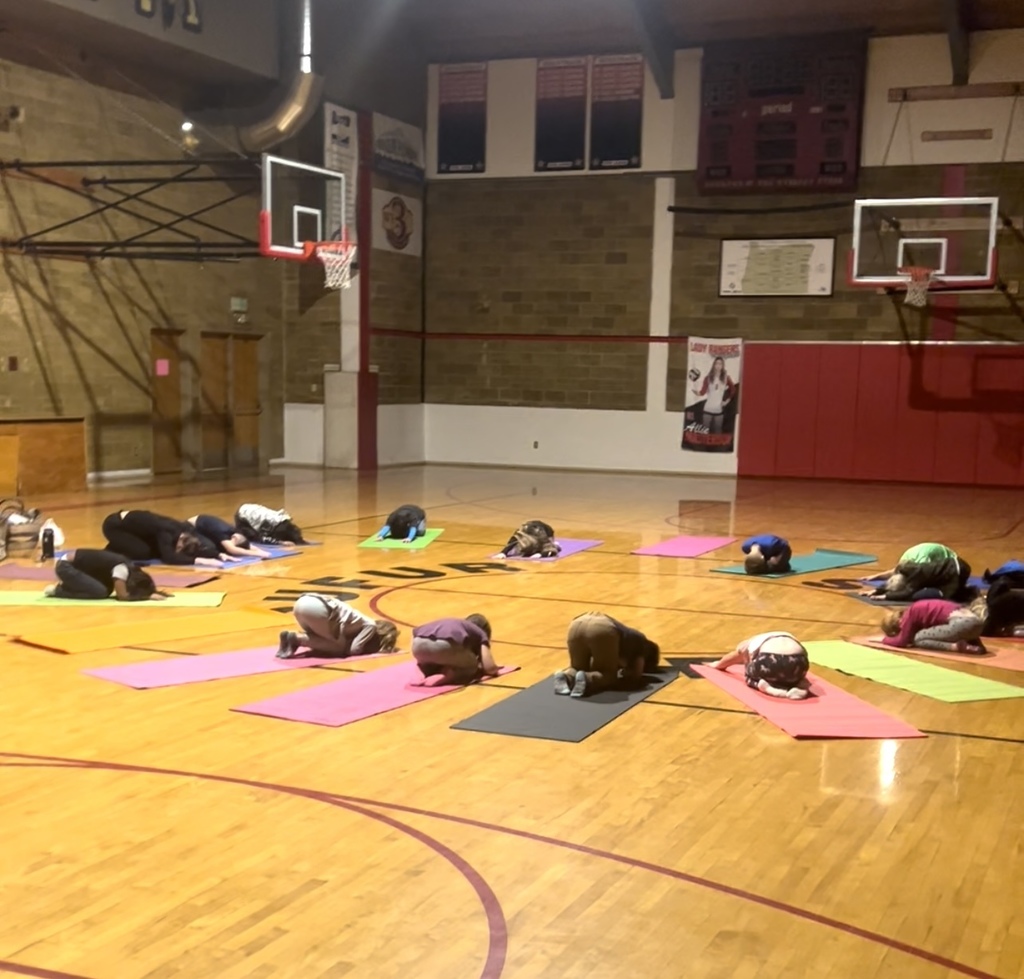 Dufur School successfully completed a lock down drill today in partnership with Oregon State Police and the Wasco County Sheriff's Department. Afterwards all students attended a school safety assembly with Sheriff Magill. Oregon schools are required to complete one fire drill every month of a school year and two lock down drills within a school year.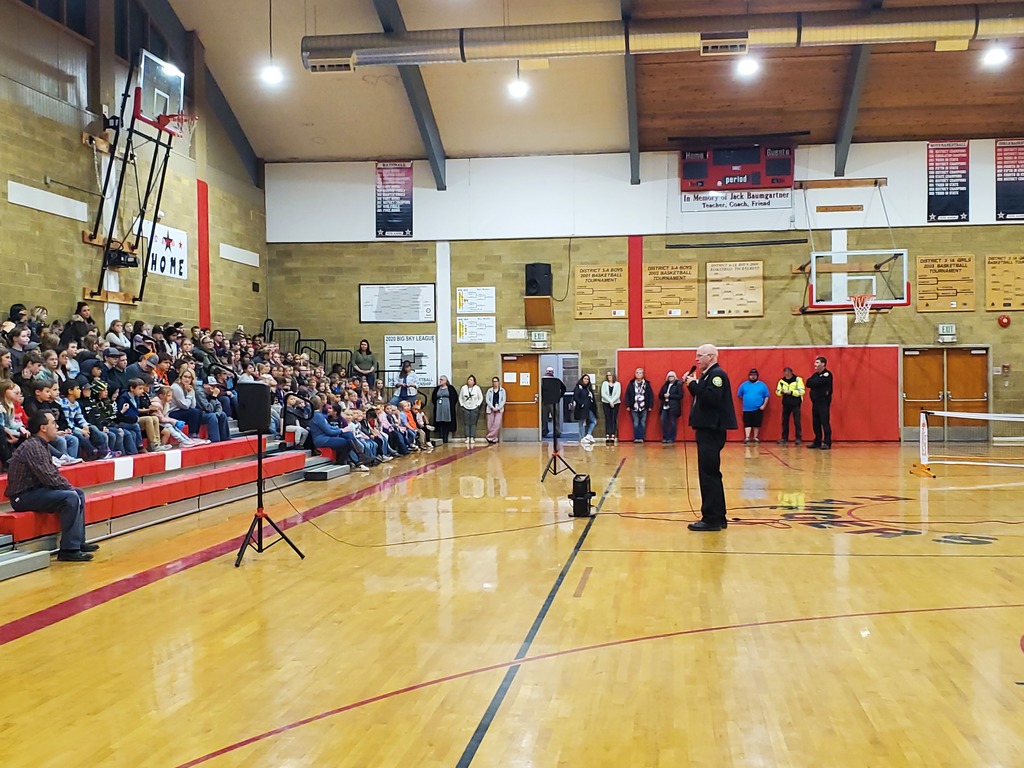 The Dufur School District has declared the following surplus property. 1. Blodgett Convection Oven 2. Lang Grill. Both are available to view at Dufur School from 8 am - 4 pm daily. The district will be accepting sealed bids through December 16th. Please send bids to the school, attention Jack Henderson, Superintendent.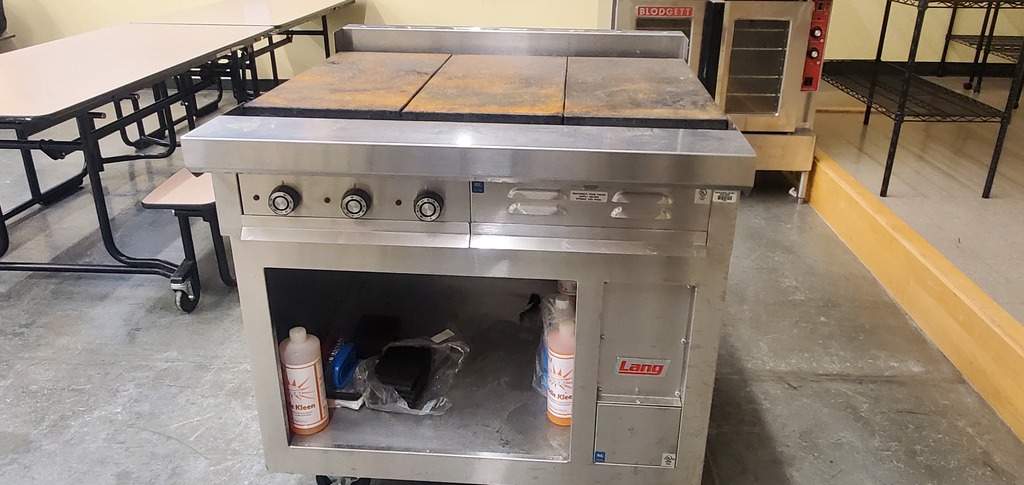 Dufur School will be recognizing the fall season middle school and high school athletes at the December 5th Board of Directors meeting in the Dufur School Cafeteria at 6:00 p.m. Athletes and parents please mark your calendars to attend!

Enrollment for the Oregon Health Plan is now open until January 15th. Please see the attached flyers for more information!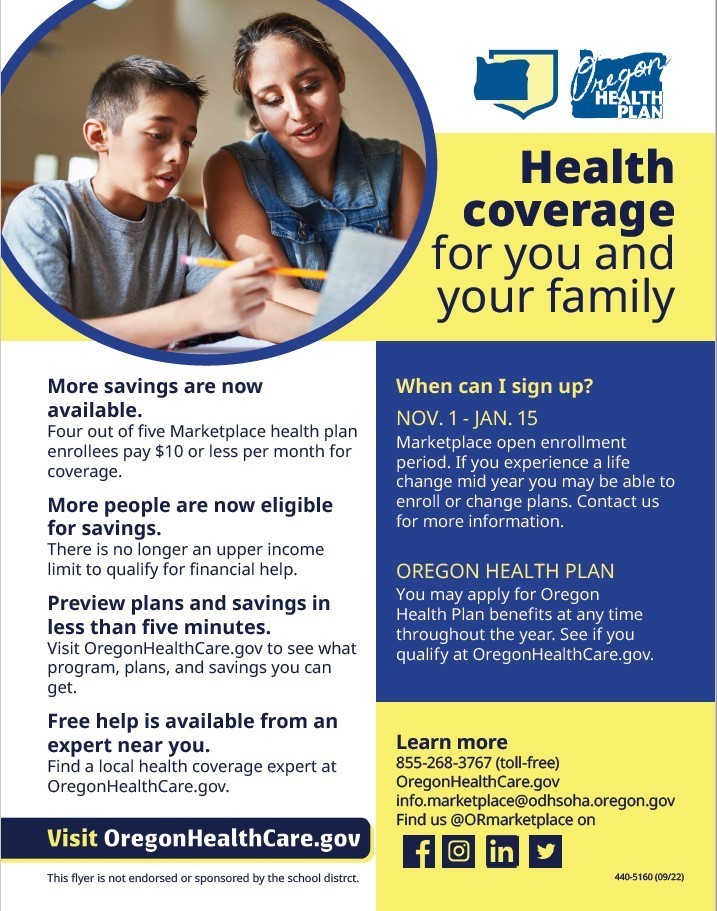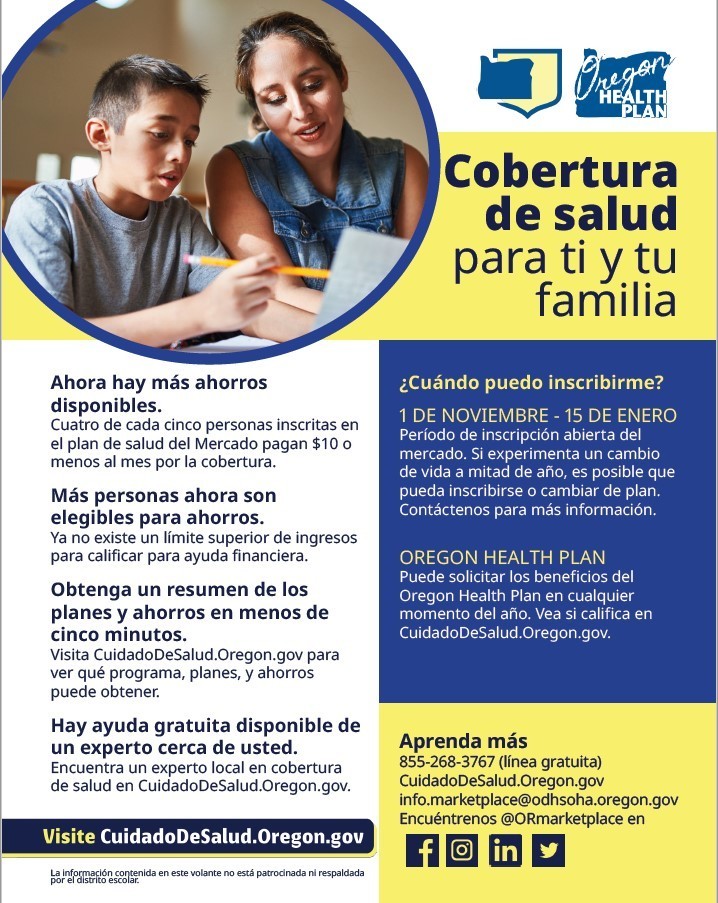 The Dufur FFA Chapter Christmas Tree sale is back! Trees will be for sale on November 26th & 27th. See the flyer for all the details!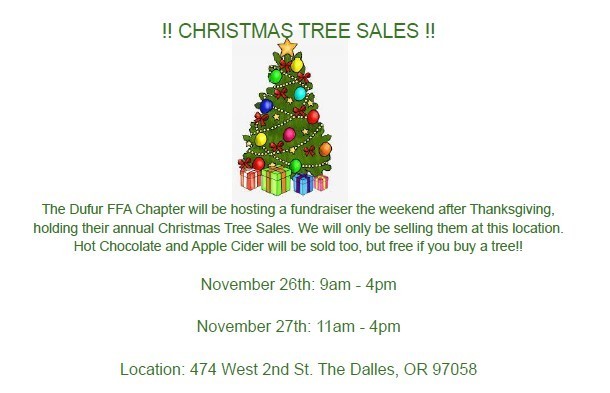 For Veterans Day, the Ranger Pride Education Foundation made it possible for us to have banners with veteran's photos made. They are on display outside of the school entrance for the month of November. Our goal is to keep adding to our collection of banners. Veterans can contact the school office, or email
beverson@dufur.k12.or.us
to share photos with us for next year!

There is still time to register for the Internet Safety Presentation being held at the Dufur School cafeteria this Thursday, Nov. 17th. Dinner and childcare will be provided. Dinner @ 5:00pm with presentation to follow from 5:30pm-7:00pm. If you have a child in your life that has electronic devices, this training is for you! This training was created by the San Diego Police Foundation and provides CRITICAL and USEFUL information. It is a step by step (and App by App) walkthrough of how to keep kids safe online. Use the link below to register today!! Looking forward to seeing you there!
https://docs.google.com/forms/d/e/1FAIpQLSeJAYPOc8pgydx9SFoT4jHuAJFEUuzg3k8mwqWYc7DgqMLqUQ/viewform
Please feel free to email
tiffany.kenslow@dufur.k12.or.us
with any questions!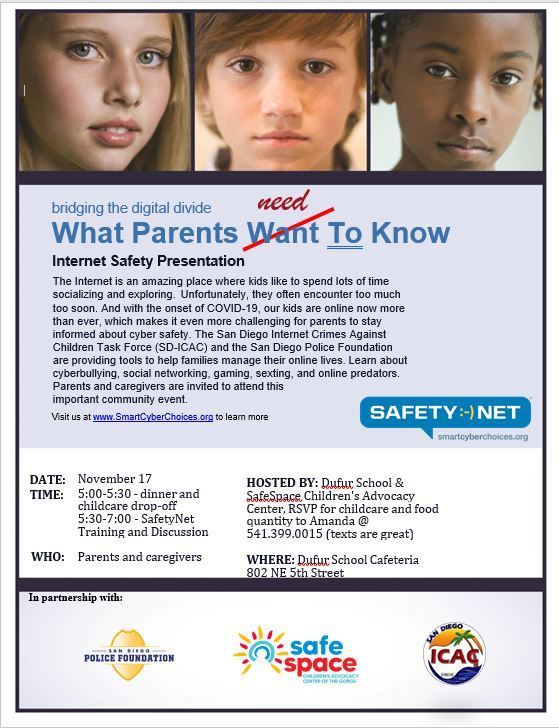 Congrats to Dufur Senior Tora Jo Timinski on signing with the Northwest Nazarene Nighthawks to play golf! Go Tora Jo!!